2min read
When it comes to selling homes, RE/MAX agents stay busy. For the twelfth straight year, RE/MAX agents at large U.S. brokerages outsold competitors by 2-to-1 in the previous year, according to the 2022 Real Trends 500 survey.
The report, released annually, shows RE/MAX agents averaged 16.5 transaction sides in 2021, with all other agents averaging 7.6 sides. Of the 1,733 brokerages participating in the ranking – all of which qualified by closing at least 500 sides in a calendar year – 28% are with the RE/MAX brand.
"We are thrilled by the performance of the RE/MAX brokerages on the prestigious RealTrends 500 list," President and CEO Nick Bailey said. "RE/MAX business owners are dedicated to growing market share, increasing productivity and helping more people achieve their real estate goals. These results are a testament to their efforts."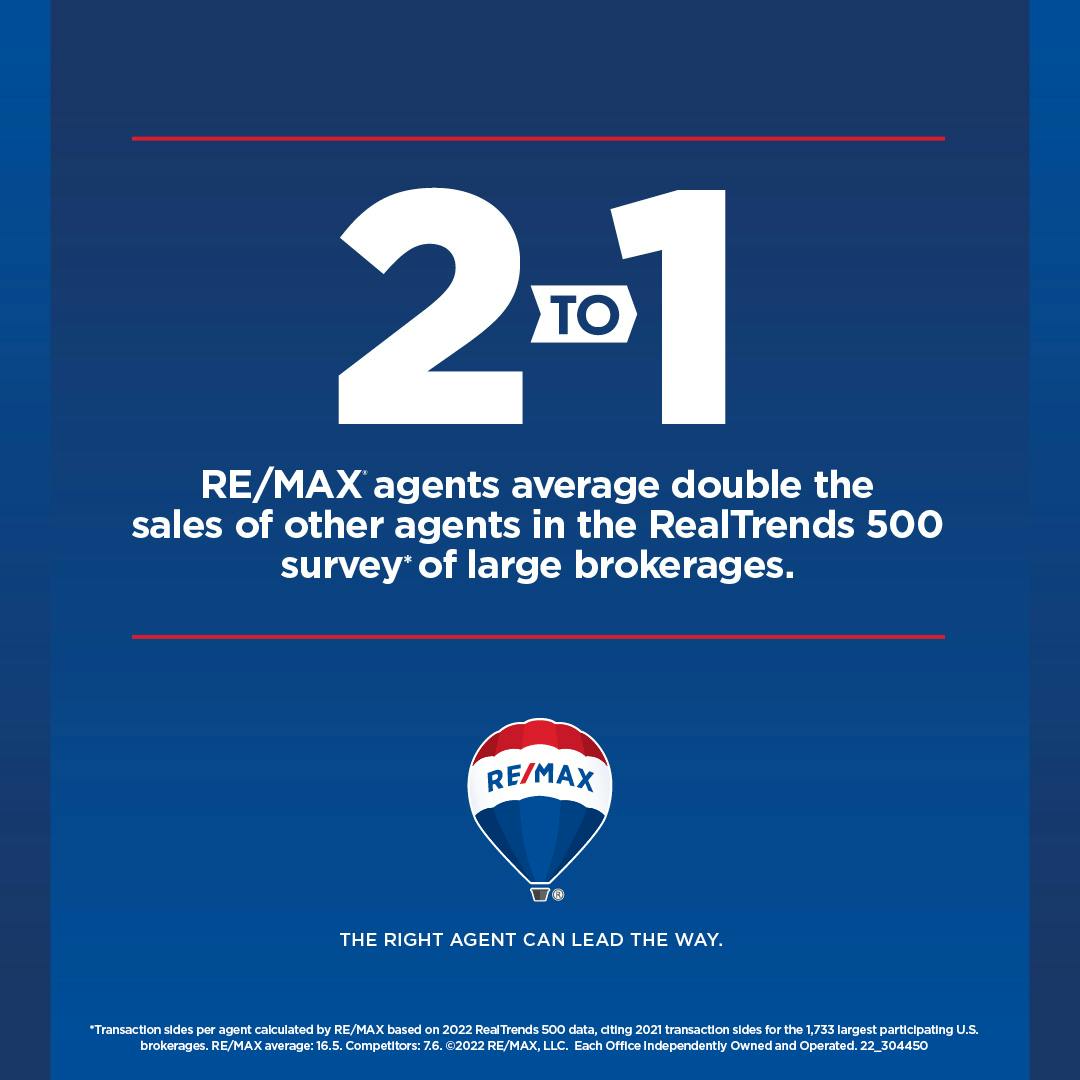 Highlights of the 2022 Real Trends 500 include:
• RE/MAX agents at participating large brokerages averaged $5.9 million in sales volume, 61% higher than the $3.7 million average of all other agents in the survey.
• When all participating brokerages are ranked by average sides per agent, RE/MAX brokerages claim 86 of the top 100 spots – including three of the top five.
• Forty-two RE/MAX offices – led by California's RE/MAX Gold and Minnesota's RE/MAX Results – were also named to the Billionaire's Club list for brokerages that sold $1 billion worth of homes, based on Real Trends 500 data.
Bailey, who notes RE/MAX offices attract productive, driven agents and those aspiring to be, said, "Rankings like this show that RE/MAX agents love what they do – and confirm that they do it well."